Click here to download the driver for Windows XP/7/8/10/11 32bit
(August, 30th 2010, V2.8.45, 942KB)
  Click here to download the driver for Windows XP/7/8/10/11 64bit
(August, 30th 2010, V2.8.45, 1093KB)
  Click here to download the demo driver for Mac OS X 10.12-10.15
(March, 31st 2020, V3.4.11, 824KB)
(For Mac OS X 10.13 - 10.15 see the support page. Mac OS X 10.15 no longer supports HAL plugins: Catalina Release Notes. On Mac OS X 10.15 the driver is CoreAudio only.
Please install - reboot - enable in security settings - install again.)

macOS Big Sur 11 no longer loads kernel extensions, it's not possible to provide an update for Big Sur. Still, we have plans to keep the driver updated for earlier versions of Mac OS X.
  Click here to download the free driver for Mac OS 9.04 - 9.22
(July, 12th 2007, V2.09f8, 327KB)
(Downloading the free driver does not entitle for buying a crossgrade.)
ASIO is a trademark and software of Steinberg Media Technologies GmbH.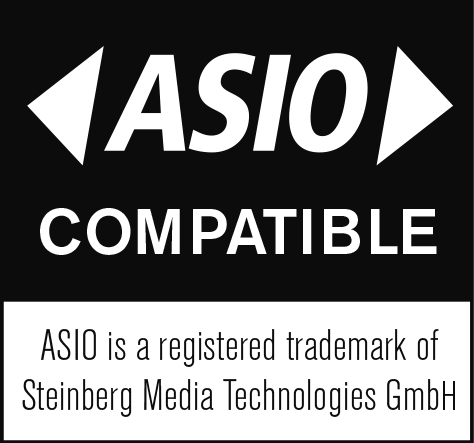 Please note that by downloading you agree to the following terms:

1. You may make copies of this driver solely for private backup purposes.
2. The software is provided "as is" without warranty of any kind.
3. Ploytec GmbH can not be made liable for any damage resulting from the installation or use of this software.
4. It's strictly forbidden to give the personal unlock-key to other people, no matter under what circumstances (including your friends).
terms and conditions
At first it will run in demo mode and "beep" every 30 seconds. On buying it you'll get a personal unlock-key that turns it into a full version for Windows or a replacement driver for Mac respectively.
We encourage you to install the driver and have a try before you order.
free demo download
The commercial version of the USB Audio driver supports Alesis USB mixing desks, ART USB, Audiotrak EX / EX5 / Maya 5.1 USB (48kHz only), Audiotrak EX7 / Maya 7.1 USB, Audiotrak OPTOPlay, Creative Audigy 2 NX (48kHz only / Windows only), Creative Extigy (48kHz only), Creative MP3+ (48kHz only), Creative SoundBlaster Live 24bit external, Digidesign Mbox, Elektor USB audio, Event EZBus, Edirol UA-1A (44.1kHz only), Edirol UA1-X, Edirol UA-3(D), Griffin iMic, Griffin PowerWave, HHB Portadisc, Hercules MusePocket (48kHz only), I-O Data D2VOX, Lexicon Omega (no MIDI yet), M-Audio Audiophile USB, Opcode DAT-/SonicPort (optical), Onkyo MSE-U33(HB), Onkyo SE-U55(X(S)), Philips Aurilium (48kHz only), Roland-ED UA-30, Sitecom 5.1 audio adapter, SKNET Digital Sound Station, Terratec Aureon 5.1 USB (48 kHz only), Vivanco 5.1 Audio Converter (48kHz only) and Waveidea UASC-1.
There's some limitations on Extigy: 48 kHz, stereo output, line and mic input (digital input only while output is muted), no MIDI, no remote control functionality. But low latency.